10 Ways To Help Your Child Memorize Scripture
Teaching our children how to memorize scripture should be a major emphasis in our parenting.  If we desire them to live according to God's Word, we must help them learn it! (<— Click to tweet that.)

Children can memorize much more quickly and easily than adults, and it is very important for us as parents to make sure they are putting as much scripture into their minds as possible during these early years.  What goes in now is going to stay there for a lifetime.  Do we want it to be nonsense or do we want it to be the Word of God?
Here are 10 ways you can help your child memorize scripture:
1. Scripture songs
Nothing makes memorizing easier than setting something to music.  That's why I searched for Scripture songs for kids and ordered several CDs for them.  We use KJV exclusively in our family, and I had a hard time finding something that was not another version.  When I did find something in KJV, the music was either too "jazzy" for our personal standards or else it sounded like a funeral dirge!  (I thought the point was to use a catchy tune to make the song memorable?)  But I did finally find something, and it is perfect!
Bible Songs for Kids from Bible Truth Music has catchy tunes that still fit into our personal music standards and are exclusively KJV.  They have 8 different albums, and you can order them in either CD or mp3 format.
My kids have only listened to the first CD twice and they are already walking around the house singing scripture.  I love it!
There are a lot of songs on each album too.  I bought 3 to start with, and that is plenty for now, although I do want to own the whole collection eventually.
2. Copywork
Another way to help kids memorize and make it "stick" is to have them copy it.  (Bonus! This doubles as handwriting practice, so we're saving lots of time too!)
You can google around for "free scripture copywork", but it is a little difficult to find KJV materials.  You can also create your own with a handwriting worksheet generator; however, you're not going to have all the cute little pictures on it if that's a big deal to you.
A final option I have found is the Write Through the Bible curriculum. It's a full year curriculum, and it not only has the child copy the verses, but gives them vocabulary words, and comes back periodically to review previous verses learned.  They have this available in KJV.  You can find that here (digital/printable version) or here (print version)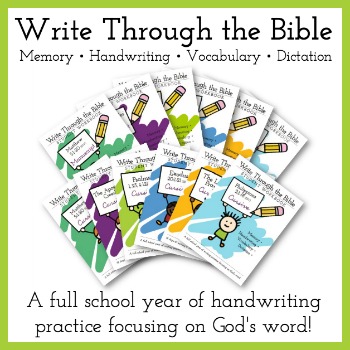 They also have a junior version (digital version here) (print version here) for children who are still learning to form their letters.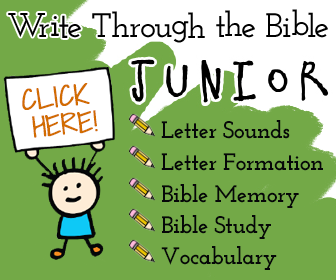 3. Memorize as a family
Children are naturally more motivated to do something when they see mom and dad working at it too.  We work on memorizing together as a family before bed each night.  You could also do this before meals.  Right now we are working on a passage in Proverbs 6.  We say the verse aloud several times together and then see who can say it by themselves.  We review that verse for several nights and when it's obvious everyone knows it well, we start working on the second verse.  When everyone can say that one by themselves, we say the first verse and the second verse together.  We review that several nights, then start on the next verse, and so on.  I have a whole set of printable family scripture memory cards with some good passages to learn as a family.
4. Use an incentive
We don't want our kids to memorize scripture just because they'll get a prize for it, but at the same time I think a nice incentive for memorizing a large portion of scripture or a large number of individual verses is in order.  I want my kids to know that their memorizing scripture is very important and that I will reward them for their hard work on it.
For example, my mom bought this armor of God playset for my son, but she told him that if he really wanted it he needed to work for it by memorizing Ephesians 6: 10-18.
Our teens at church earn money off the cost of teen camp by memorizing entire chapters (and entire books!) of the Bible.
It is possible to hide God's Word in your heart in a BIG way when you really want to!
5. Memorization programs
If it is at all possible for your child can be involved a Scripture memory program at church, do it!  We have King's Kids at our church; some do AWANA; some do something else.  I learned most of the scripture I know during AWANA as a child.  You and your child both will never regret having a set time each week for them to come together with other children to memorize and recite scripture.  What they learn there will be with them for the rest of their life.
6. Choose a verse from their devotions
Are your children spending their own personal time with the Lord? (This is what I have found to be very helpful in guiding them with that.)  I encourage my kids to choose one verse from their Bible reading that day to memorize during their quiet time.  This also helps them pay attention a little better to what they are reading.
7. Hand motions
When you incorporate as many of the senses into memorization as possible, you greatly increase the chances of remembering what you've learned.  Young children seem to especially enjoy adding hand motions in to help them remember the next part of the verse.  For example, when we memorized Proverbs 6:10 – "1Yet a little sleep, 2a little slumber, 3a little folding of the hands to sleep" – I 1laid on my hands on one cheek, 2laid on my hands on the other cheek, and 3folded my hands on my chest.  It's very simple, but it helped my 3 year old remember the verse much better.
8. Different voices
Repetition is the key to learning, but to make sure it doesn't become boring, try to mix up what you do.  Kids think it's funny to say the verse in different voices.  "Let's say it in our high voice/low voice/opera voice/hillbilly voice/etc.  You can also have them turn around backwards, stand up, sit down, etc.
9. Make sure they understand it
It's much easier to memorize something if you understand what it means.  When my children are just trying to say a bunch of words, they will have trouble, but if they know the concept behind the verse, their mind flows with the general idea and they can get through the verse.  Even if they can't get through it word perfectly, they still know what the verse is talking about and they can continue on without getting stuck.
10. Scripture art in the home
When you look at something enough, you memorize it without even thinking about it.  Keeping scripture prominently displayed in your home will help you and your children both hide more of God's Word in your hearts.  You can find several printable scripture verses here on the blog. (Psalm 51:7, Psalm 46:10, Philippians 4:4, Proverbs 31:26, Phililppians 4:8)